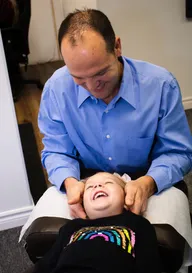 Dr. Jeff Slota, D.C., B. Kin (Hons.), B.Ed.
Kids and families:
Dr. Jeff loves helping kids! Having been a teacher before becoming a doctor, Dr Jeff has a real flair with kids! You will have no worries in getting your kids and babies better. Tear free and with a smile on their face, they will bounce back to sports and activities they love after seeing Dr. Jeff. From the moment you meet Dr. Jeff you will feel at ease and you will look forward to visits. Dr. Jeff is also excited about providing care to you too! He adjusted his wife through their four pregnancies and actually delivered one of his own babies!
Having been in practice over 15 years, he sure has treated all ages and just about everything!
Philosophy and practice:
Dr. Slota is a wellness based practitioner for all members of the family (adults, teens, and children.) Aches and pains are signals that your body is not performing optimally. Stress (physical, chemical and emotional) tightens muscle and decreases spinal range of motion, which contributes to poor posture and pain. When this happens, spinal nerves become irritated and the master system of the body (your nervous system) does not properly transmit information. Chiropractic treatment helps restore this function, allowing for proper nervous system flow and hence a decline in illness and disease. You will experience relief of pain, improved performance, and be back on track to feeling like yourself again. Dr. Slota is excited about providing care to you and your children.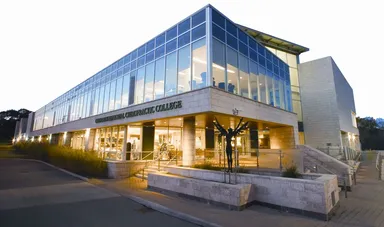 Education:

Dr. Slota earned his four year Doctor of Chiropractic degree (D.C.) at the Canadian Memorial Chiropractic College in Toronto. He also completed a 1 year clinical internship in Toronto which included a 6 month internship with a high needs, economically diverse population. Dr. Slota was on the selection committee for applicants to the Chiropractic College and now currently is involved with testing potential chiropractors skills and competencies.
Dr. Slota also earned a diploma in Clinical Acupuncture, with an emphasis in Traditional Chinese Medical and Anatomical Acupuncture.
Dr. Slota has earned his teaching certificate at the University of Windsor in both Primary/Junior (grades K-6) as well as high school Physical Education. He spent his teaching years teaching grades 2 and 3 in both Yellowknife and Brantford.
Dr. Slota started a Masters in Education at the University of Nipissing. He received his Bachelor of Arts (Honours) in Kinesiology at the University of Western Ontario.
Personal:
Dr. Slota is a avid exerciser and believes that preventative health comes from regular exercise, healthy eating habits and managing stress. He enjoys strength training, running, soccer, hockey, scuba diving, water sports, home renovations, traveling, and teaching. Dr. Slota loves his family and enjoys playing with his children.
Coaching:

Dr. Jeff is currently the head coach for an A/AA team in London and an assistant coach for a house league team.
FOR AN APPOINTMENT WITH DR. JEFF SLOTA PLEASE CALL 519-601-4325.