Did you know Dr. Jeff was a teacher and now carries his love of children through to Chiropractic for kids! Dr. Jeff has helped thousands of kids in London Ontario and wants to help your child too. Dr. Jeff's patients live a healthy life with less pain, less medications and more enjoyment of sports and school!
Children can benefit from regular chiropractic care at any age. Injuries that children receive during their everyday lives and while playing sports can cause many symptoms that can be treated by chiropractors. This includes soreness, discomfort, stiffness or neck pain. The symptoms are something you should listen to and find out what is causing it.
Here are some of the questions that can help you see if your child needs to come to the chiropractor:
Is my child complaining of headaches?
Do they complain of soreness often?
Is my child falling often?
Have they had an accident?
Does my child play contact sports?
Are they standing up straight?
Do their feet look like they are turning in?
Is there head tipping to one side?
Are they waking up complaining of "growing pains"?
Are they looking down at a tablet for more than 20 minutes?
Are they home schooling and sitting down for extended periods?
These questions can help us determine if something else is going on in your child that we can help you with.
Here are some of the questions that can help you see if your child needs to come to the chiropractor:
Are they having trouble nursing or using the bottle on one side?
Was there pain in the pelvis during pregnancy in the mother?
What was the birth like? Was there interventions?
Is the baby feeding well?
Does the baby cry when laying on their back?
Are they arching back often?
Do you feel they are crying more than normal?
Do you have any spine issues and want to have your child screened?
Pediatric chiropractors — those that are trained to work with children — always adapt the assessment and treatment to fit the special needs of their young patients. Dr. Slota looks at the entire child, checking how they are functioning both physically and in their daily life. Dr. Slota also provides highly skilled treatments that are very gentle and safe. You will be impressed how well we take care of your child, as we know your child is very important to you.
Dr. Jeff with one of his little patients: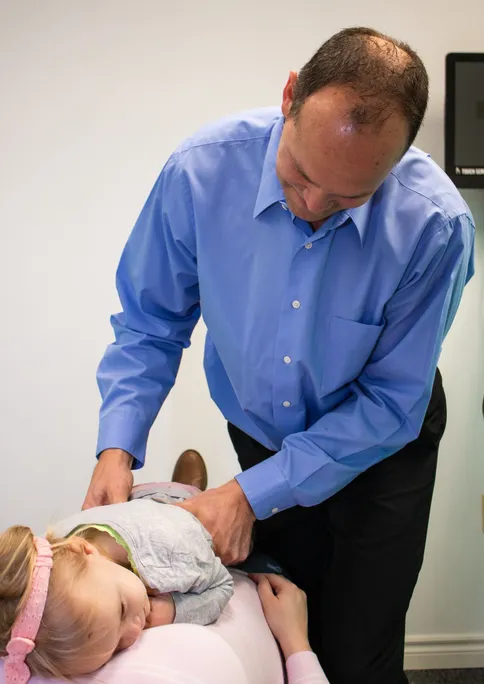 Why Chiropractic Care for Children

Children may experience trauma at birth that affects their body. Later childhood activities — like learning to walk, participating in sports or riding a bicycle — can also cause spinal health problems, or make them worse.
Even injuries that appear to be minor — such as a fall off a bicycle — can damage other parts of the body, such as the pelvis, skull, spine and limbs. Dr. Slota is uniquely trained to identify problems in these areas.
Dr. Slota can also determine whether "growing pains" are signs of more severe health problems. Regular chiropractic care for children may be able to head off problems that many adults experience later in life.
Dr. Rebecca with one of her little patients: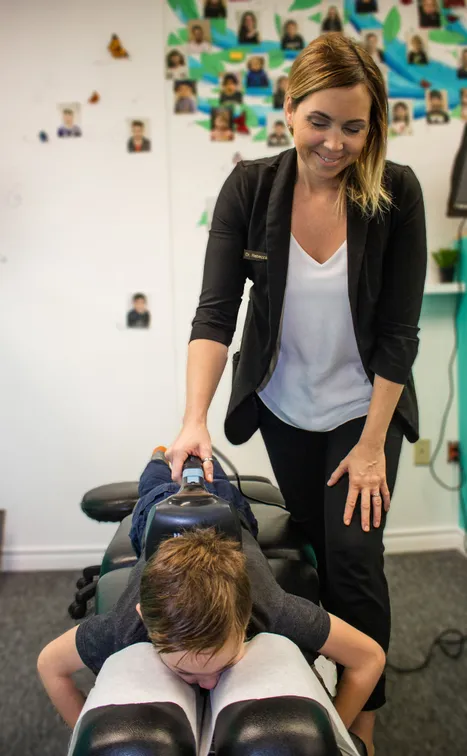 Treating Childhood Conditions

One of the main types of chiropractic care for children is treating back and neck pain or other issues related to the spine. Dr. Slota can check children as young as newborns for problems, especially those related to the health of their spine.
When Dr. Slota works with children, the same highly skilled treatments that adults receive are given with a more gentle and soft precision. A hands-on, drug-free approach is important. Visits include a physical exam, diagnosis and treatment. In the case of children, we understand that care needs to be tailored and suitable to the age of the child. Dr. Slota has been adjusting children for over ten years and has four children also!
Children who already have a regular pediatrician — who provides medications and treats serious illnesses — can also benefit from a pediatric chiropractor. Much of the work that chiropractors do with children is preventative wellness care, such as helping their spine stay healthy and strong as they grow.
Chiropractic is for all ages. Contact us at (519) 601-4325 to learn more about chiropractic care for your child or baby. If you have any concerns or questions we welcome a free consultation to help see if care with us is right for you!