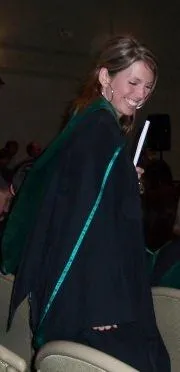 (Dr Rebecca's graduation in Toronto)

Higher Education: To become a Chiropractor in Canada, at least seven years of post secondary education needs to be completed including a minimum of three years of university degree study. Dr. Jeff has completed over ten years of post secondary studies and Dr. Rebecca has completed over eight years of post secondary studies.
Dr. Rebecca and Dr. Jeff have completed expert knowledge in spine and musculoskeletal health at the Canadian Memorial Chiropractic College in Toronto (four year doctor degree), a year long internship with full patient contact and case management, and a year long Traditional Chinese Medical Acupuncture Certification. Also, there is a thesis completed in the fourth year, which has full method and statistical analysis, leading to contribution to cutting edge research in this field. Dr. Rebecca's thesis was on the effects of Chiropractic on infantile colic. It is important to note that all years of study have had full hands on technique and diagnosis.
Board Certification: Three separate-day long board exams, on science, biochemistry, anatomy, x-ray taking and reading (radiology), orthopedic testing, pharmacology, rehabilitation, neurological testing, and treatments. A fourth provincial examination, outlining and testing the province ethics and regional laws. Dr. Rebecca and Dr. Jeff now stand as board examiners and are honoured to have had this roll for over five years.
Hours and experience: Chiropractors have completed more than 4,200 hours of training and also require 40 hours of continuing education every two years. Dr. Jeff has performed over 450, 000 adjustments and Dr. Rebecca has performed over 200,000 adjustments. Dr. Jeff and Dr. Rebecca take continuing education in subjects such as prenatal care, care for children and infants, acupuncture for fertility, and adjusting techniques. Both were members of the Chiropractic adjusting club for four years in Toronto.